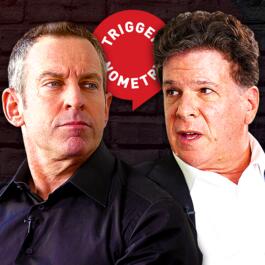 Francis Foster + Konstantin Kisin & Eric Weinstein + Sam Harris ,
TRIGGERnometry
Sam Harris X Eric Weinstein: Israel-Palestine
20 Oct 2023 • 117 min • EN
Sam and Eric join us to discuss current events and debate the wider issues at play. Sam Harris is an American neuroscientist, author, and podcast host. A central voice in the New Atheism movement, he is a well-known critic of religious ideology. Eric Weinstein is a mathematical physicist, public thinker and host of the podcast 'The Portal'. Become a Premium Member to receive exclusive benefits https://triggernometry.supercast.com/ OR Support TRIGGERnometry Here: Bitcoin: bc1qm6vvhduc6s3rvy8u76sllmrfpynfv94qw8p8d5 Music by: Music by: Xentric | info@xentricapc.com | https://www.xentricapc.com/ YouTube:  @xentricapc   Buy Merch Here: https://www.triggerpod.co.uk/shop/ Advertise on TRIGGERnometry: marketing@triggerpod.co.uk Join the Mailing List: https://www.triggerpod.co.uk/sign-up/ Find TRIGGERnometry on Social Media:  https://twitter.com/triggerpod https://www.facebook.com/triggerpod/ https://www.instagram.com/triggerpod/ About TRIGGERnometry:  Stand-up comedians Konstantin Kisin (@konstantinkisin) and Francis Foster (@francisjfoster) make sense of politics, economics, free speech, AI, drug policy and WW3 with the help of presidential advisors, renowned economists, award-winning journalists, controversial writers, leading scientists and notorious comedians.
From "TRIGGERnometry"