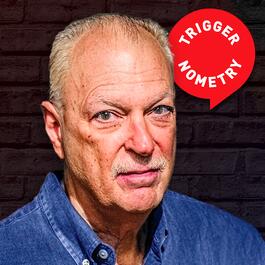 Martin Gurri: "There's No Going Back to Normal"
12 Apr 2023 • 55 min • EN
SPONSORED BY: BetterHelp. Give online therapy a try at https://betterhelp.com/trigger/ - get 10% off your first month, and get on your way to being your best self.  Martin Gurri is a former CIA analyst who writes about the relationship between politics and media. He served at the Director of National Intelligence Open Source Center in various senior positions, including director of research. He is the author of 'The Revolt of the Public and the Crisis of Authority in the New Millennium'. Join our exclusive TRIGGERnometry community on Locals! https://triggernometry.locals.com/ OR Support TRIGGERnometry Here: https://www.subscribestar.com/triggernometry https://www.patreon.com/triggerpod Bitcoin: bc1qm6vvhduc6s3rvy8u76sllmrfpynfv94qw8p8d5 Music by: Music by: Xentric | info@xentricapc.com | https://www.xentricapc.com/ YouTube:  @xentricapc   Buy Merch Here: https://www.triggerpod.co.uk/shop/ Advertise on TRIGGERnometry: marketing@triggerpod.co.uk Join the Mailing List: https://www.triggerpod.co.uk/sign-up/ Find TRIGGERnometry on Social Media:  https://twitter.com/triggerpod https://www.facebook.com/triggerpod/ https://www.instagram.com/triggerpod/ About TRIGGERnometry:  Stand-up comedians Konstantin Kisin (@konstantinkisin) and Francis Foster (@francisjfoster) make sense of politics, economics, free speech, AI, drug policy and WW3 with the help of presidential advisors, renowned economists, award-winning journalists, controversial writers, leading scientists and notorious comedians. 00:00 Intro  01:19 Martin Gurri's Background 05:53 Society's Distrust in Elites 11:00 The Problems with Our Institutions 14:15 How Long Can the Elites Hold on to their Power? 16:50 Is a Revolution Coming? 20:53 Sponsor Message: ExpressVPN 22:41 The War on Truth 30:02 Living in a Post-Truth Society 32:31 How Do We Fix the Incentivisation of Conflict? 36:08 How to Individually Contribute to Making a Better World 41:09 *Join the TRIGGERnometry Community on Locals* 42:09 Can Our Institutions Be Saved? 46:09 The Role Technology Will Play in the Future 50:30 Is the West Making Itself More Vulnerable? 55:22 What's the One Thing We're Not Talking About?
From "TRIGGERnometry"