last seen recently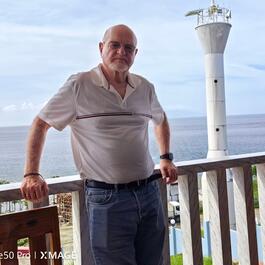 David Haldane I am an award-winning American journalist, author, and radio broadcaster. My latest book, A Tooth in My Popsicle, is a compilation of sort essays about expat life in the Philippines. A former Los Angeles Times staff writer, I currently divide my time between homes in Joshua Tree, California, and Northern Mindanao, Philippines, where I write a weekly column for the Mindanao Gold Star Daily. My career has spanned more than five decades, beginning as a reporter in the early 1970s covering that era's American counterculture for the legendary and notorious "underground" newspaper, Berkeley BARB.
David Haldane's Interviews
We"ll transport you to the heart of the Philippines with our special guest, David Haldane. As an expat and author of the book, A Tooth in My Popsicle And Other Ebullient Essays on Becoming Filipino, David offers a uniquely insightful perspective on the blend of the Philippines" cultural landscapes --from bustling Manil
David Haldane is a former LA Times journalist who married a woman from the Philippines and now splits his time between her homeland and Joshua Tree, CA.
Podcasts with David Haldane